This article is about the Costume Trunk catalog. Were you looking for the furniture item, the Costume Trunk?
The Costume Trunk (Mall) was the permanent catalog at the Mall on Club Penguin Online. Unlike the Stage catalog, this catalog was never changed or updated. It contained clothing items for many Stage plays.
History
| Location | Available From | Available Until |
| --- | --- | --- |
| Mall | January 4, 2018 | May 31, 2020 |
Items
Backgrounds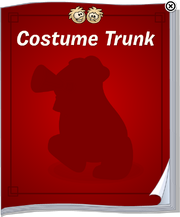 Miscellaneous
The Penguins That Time Forgot
Quest for the Golden Puffle
Shadow Guy & Gamma Gal
Battle of the Ancient Shadows
Underwater Adventure
Haunting of the Viking Opera
Ruby & the Ruby
Fairy Fables
Night of the Living Sled
Team Blue VS Team Red
Space Adventures
Secrets of the Bamboo Forest
Twelfth Fish
Norman Swarm has been Transformed
Humbug Holiday
The Costume Trunk (Stage) was a catalog in Club Penguin Online featuring Clothing and Backgrounds for the current play.
History
Sometimes, the stage play available did not match the Costume Trunk catalog at the Stage.
Items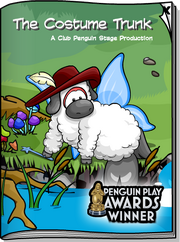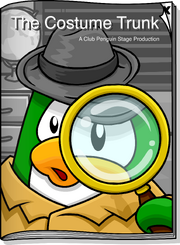 Trivia