Mancala
Information
Players
2
Controls
Mouse
Location
Book Room
Released
January 4th, 2018
Mancala was a minigame in Club Penguin Online. It was playable in the Book Room above the Coffee Shop. Only two players could play it, with the objective of the game being to collect more stones than your opponent before one side of the board was cleared. It was based on a real-life game of the same name.
How to Play
Players alternated turns. In their turn, each player had to select a group of stones from one hole on their side of the board. Each stone was then dropped one by one in the holes around the board, including their Mancala (large oval space on either side of the board), but not the opponent's Mancala.
How to Win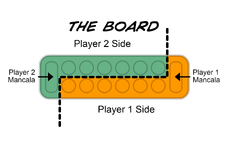 The game ended when a player had no more stones on their side of the board. The winner was the player with the greatest total number of stones in their mancala and any remaining stones on their side of the board.
Trivia
Gallery
Community content is available under
CC-BY-SA
unless otherwise noted.