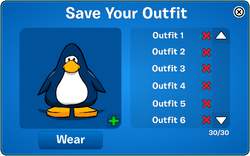 The Outfit Saver was a custom added feature created by Jonas and Timmy which allowed Penguins to save their outfits by just a click without having to scroll through inventory. It was added to Club Penguin Online on January 16, 2020.
Access
To open the outfit saver, players had to open their Player Card and click on the

icon at the bottom right corner.
Use






Players could save up to 30 outfits with a few simple button clicks:
The Icon opened the feature.
The green plus Add button added the outfit.

A pop up screen then appeared and clicking the Save button saved the outfit.

The red x Delete button deleted the selected saved outfit.
The arrow was a Revert button which changed the outfit to the previous one selected.
The Wear button made the player wear the selected saved outfit.
Gallery