Sled Racing
Information
Players
1-4
Controls
Arrow Keys
Location
Ski Hill
Released
January 4, 2018
Sled Racing was a multiplayer mini-game in Club Penguin Online located at the Ski Hill.
The game was about racing penguins down a hill. Up to 4 players could play at once depending on the path selected.
Music
Gameplay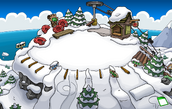 When the game started, the players slid down a narrow section of hill using large red inflatable tubes (or "Inner Tubes") and used the arrow keys to navigate: up/right to go to the left (penguin perspective), and down/left to go to the right. The game contained several obstacles which the players had to navigate around. Running into an obstacle caused the player to fall off of their tube. Patches of Ice were also scattered across the hill, giving the player a brief speed increase. The first player who reached the finish line won 20 coins, with the second player earning 10 and the last player earning 5 coins.
Paths
There were several different sled paths to choose from. Each had a different number of slots.The player would sit down in an Inner Tube and waited until everyone joined. The race started as soon as all the slots were filled.
Image
Path Name
Player No.
Path Description

Bunny Hill
2
The first and easiest track out of the four

Express
Harder than Bunny Hill but still relatively easy

Penguin Run
3
Harder than the first two runs

Ridge Run
4
The longest track
Upgrades
A Game Upgrades catalog for Sled Racing was available in the Ski Hill, allowing players to play Sled Racing with three different sleds rather than the Inner Tube. The available sleds were the following: The Toboggan, Green Racing Sled and Pink Racing Sled. To use them the player had to equip them before joining a game. They were purely for aesthetics and did not change gameplay in any way.
Sleds In-game
Tips
Ice patches made you go fast, as they gave you a turbo boost.
Jumps made you slower.
Use both the up and right arrows together instead of just one when going to the left, in order to shift faster. This also worked when moving to the right using the down and left arrows.
Trivia
It was featured on the "Sled Racing" Card-Jitsu Power Card.
The names of each of the paths were named by the two old blue clapping penguins seen at the finish line of each path.
On March 10, 2020 a new Leaderboard feature was released where penguins could race to first in playing the game and win prizes.
Gallery
Paths
Leaderboard
Community content is available under
CC-BY-SA
unless otherwise noted.