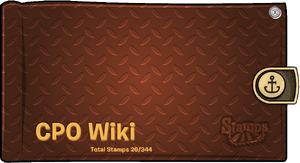 The Stamp Book was a book that could be accessed via the Player Card. Here penguins could view their Stamps that they had earned by meeting Mascots, at Parties and Events, during Games, as well as Pins which were found in a new location every week. The book was given to every player by default.
Sections
The Stamp Book was split up into 4 main sections: Games, Events, Activities and Pins. The Event Stamps were further split up into Characters and Parties.
Customisation
Penguins could customise the cover of their Stamp Book, by editing the color, highlight, pattern and icon. Players could also display their favourite received stamps and pins on the cover, with a limit of 6 stamps and pins at one time. Stamp books for other players could be viewed through their player card.
Color
Black, Pink, Yellow, Light Blue, Dark Blue, Brown.
Highlight
Highlight color options were dependent on the color choice.
Pattern
Diamond Plate, Puffles, Paint splats, Stars, Checks, Wood. Any pattern could also be removed so the cover was plain.
Icon
Anchor, Joystick, Puffle, Fish, Pizza, Music note.
Stamp Design
See main article: Stamps
Trivia
There was a glitch with the Stamp Book where the stamp count on the outside was up to 20 stamps greater than the actual amount of stamps collected.
Gallery