REVIEW: 3 Million Registered Users Party
This is a review of the 3 Million Registered Users Party.
Information
The 3 Million Registered Users Party started on June 17, 2019 to celebrate Club Penguin Online reaching 3 million registered users. This is a huge milestone for the game and the party was planned as a celebration and thank you to the players.
Items
The party gave players the opportunity to collect five custom items! Four of them were collected through the Code 3MILLION, while the 3 Million Party Hat could be collected during the party.
Although the party did not feature many items, the items it did offer are all custom items that are unique to Club Penguin Online. The Designers spent a lot of time carefully creating the items and they really allow players to celebrate the 3 million milestone.
Rooms
There were five decorated party rooms. Each room was decorated with balloons of the party colours and featured a large arrow pointing to the main party room, the Pond.
The party designs are simplistic and the rooms were not overly decorated for the party. However, this meant that players could still enjoy the rooms without the party taking over the whole island.
Mascots
A large number of mascots visited during the party. This gave penguins the opportunity to meet lots of famous penguins and collect their stamp and background. Mascot visits were extremely popular, with servers quickly becoming full when mascots visited.
However, there were some notable absences. Gary and Rockhopper did not visit during the party, despite Riley announcing that all mascots would be visiting. Many players were disappointed by this, since neither Gary or Rockhopper have visited Club Penguin Online for a few months. It would have been nice to see Gary and Rockhopper at the party to allow players to meet them, especially since some mascots that visited during the party had been to the island very recently, such as Aunt Arctic who visited during the Marvel Endgame Takeover and the Penguin Band who visited for the Music Jam 2019.
Features
Apart from the decorated party rooms, the 3 Million Registered Users Party did not bring any new party features. Some players were disappointed by this, claiming that the party only consisted of a few decorated rooms and a couple of items.
However, the party did bring with it the introduction of a brand new custom room, the Pond. This was the central party room and players loved seeing the new permanent room that had been created to celebrate 3 million users.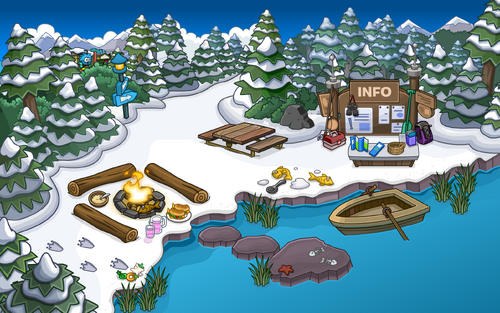 Summary
Overall, I think the 3 Million Registered Users Party was really fun. The rooms were nicely decorated, lots of mascots visited and there were several custom items to collect. Some players were disappointed by the lack of party features and that not all mascots visited. However, the party did feature a lot of custom content, showing that the Club Penguin Online staff put a lot of work into designing the party.
Vote