REVIEW: The Pond
This review is about the new custom-designed room, the Pond.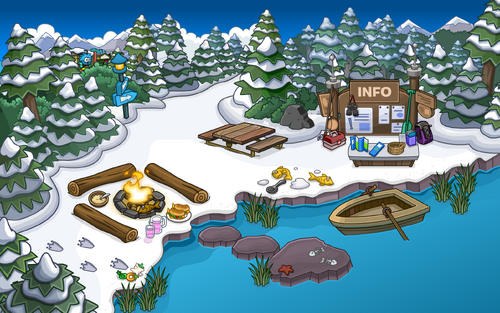 Information
The Pond is a custom room for Club Penguin Online. It was designed by Jonas and introduced to Club Penguin Online for the 3 Million Registered Users Party. Although introduced during the party, the Pond will remain in game after the party has finished as permanent room.
The Pond can be found on the southern side of Club Penguin Online and can be accessed directly via the Map. It is located below the Forest and next to the Cove. The room can also be accessed from the Forest.
Design
The room was designed specifically for Club Penguin Online by Jonas. He is extremely talented and the room design is fantastic—it looks like it could have been on the original Club Penguin game.
The Pond room is set at the top corner of the pond below the forest. It features an information board for penguins, surrounded by boating and fishing equipment. There are some stepping stone rocks leading out into the pond and a rowing boat. On land, there is also a picnic table (currently hidden by party balloons for the 3 Million Registered Users Party) and a fire pit with logs to sit on.
Review
I personally love this new room. I think Jonas has done a brilliant job of designing it and I think lots of penguins will enjoy it. The room is perfect for sitting around the fire or picnic table and chatting with your friends or for role-playing a fishing or camping adventure.
Jonas has added a lot of small touches to the room that really bring it to life and add character:
the food and drink around the campfire
the Puffle O'berries on the floor
the equipment around the information point
the fish on the floor
the lampost
the footsteps leading away into the Wilderness, perhaps from Sam the Sasquatch?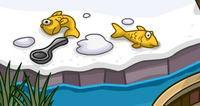 Jonas has also added a little bit of his personality into the room. Jonas famously love spoons and has a special hand item of a large spoon that he can often be seen wearing. He has added a spoon into the room next to the water's edge and it's nice to see this little artist signature in game.
Summary
The Pond is a new permanent room that was custom designed for Club Penguin Online by our head designer Jonas. The room has a lot of character and little details that make it look awesome. I'm sure penguins will enjoy spending time in the room, either just with their friends or role-playing.
Community content is available under
CC-BY-SA
unless otherwise noted.