Riley has just announced an opportunity to obtain a custom role in the official Club Penguin Online Discord server!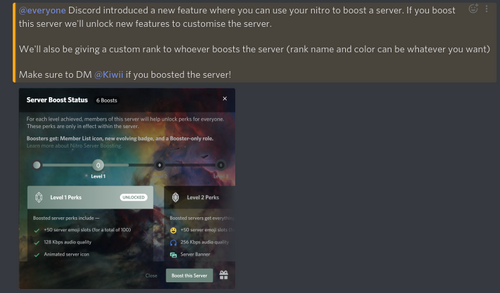 How does it work
In order to get a custom role, players must boost the Discord server. Boosting is a process where Discord members can choose their favourite server to allow the server to obtain some cool features, such as more emojis, an animated server icon and better audio quality.
Each boost lasts 7 days, meaning Discord members can choose their favourite server each week. Boosts can only be given by Discord members who pay for Discord Nitro, an additional feature that allows more customisation of Discord.
For more information about boosting, check out this web page.
Custom roles
Once they have boosted the server, players received the Nitro Booster role and can DM Kiwii to obtain a custom role. The role can be called anything they like (within the rules of the Discord server) and can be any colour (other than staff role colours). Here are some custom roles that people have chosen:
Community content is available under
CC-BY-SA
unless otherwise noted.