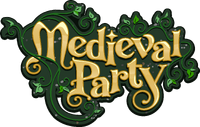 The Medieval Party 2019 is in full swing on Club Penguin Online! All of the features are now accessible and this guide will make sure you haven't missed out on any stamps or items!
Rooms
Lots of rooms have been decorated for the party—make sure to check them all out before the party ends! We also have several party rooms that are only available for a short time:
These rooms are only available until the party ends, so don't miss out on seeing them! At the Sky Kingdom, you can work with other penguins to light up the coloured gems (Infinity Stones anyone??). This does not get you any items or stamps, it simply changes the appearance of the room, but it is pretty cool!
Stamps
This party offers the opportunity to get a LOT of stamps! Here are all the stamps you can get and how to get them:
Items
This party offers so many items! Not only can you purchase Medieval-themed clothing from the Medieval Catalog at the Clothes Shop, you can also claim free items from completing party tasks. Here are all the free items you can obtain:
Players will also be able to collect a free background from Scorn the Dragon King, a custom mascot who will be visiting Club Penguin Online during the party. This item is not yet available.
Vote
Community content is available under
CC-BY-SA
unless otherwise noted.